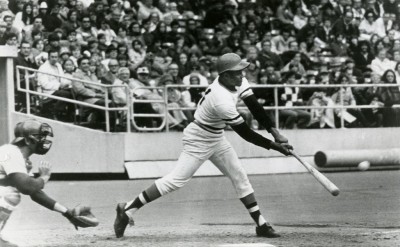 When I see an old black and white photograph of Roberto Clemente at the plate in Three Rivers Stadium, I want to read what it's about. I saw him play at the Astrodome when I was a kid. For 50¢ a ticket my dad would take me and my brother to sit in the bleachers on Sunday afternoons to watch the games. Clemente was one of my childhood sports heroes, along with Johnny Bench and my favorite Astro, Cesar Cedeno. Everything Clemente did just seemed so perfect, so cool. It was how he moved, how he did things. And when he was at the plate, I could see the sharp, angular lines of his face all the way from center field.
So, when I saw that photo on ESPN.com the other day, I clicked through to the story. It was an excerpt from a memoir Kevin Guilfoile has written about his dad. Bill Guilfoile was the public relations director for the Pittsburgh Pirates when Clemente got his 3000th hit in 1972. I've always thought there was some sort of cosmic justice in him getting that hit, late in the season. And whether there was anything cosmic in it or not, it's always been linked in my memory with the story of the plane crash that killed Clemente on New Year's Eve of that same year. I can always see the pictures of the burning wreckage of the plane (or maybe that was burning rubble in Managua where Clemente was headed) in my mind and hear the voice of Dave Ward, one of Houston's local news anchors at the time, reporting that the plane had been full of supplies for the earthquake victims in Nicaragua.
The story Guilfoile is writing is not about how Clemente died. This is about the other part of Clemente's story, the 3000th hit part and the bat he used to get it. But I read something early on in the piece that was the heart of the story for me. It's just a couple of paragraphs about Bill Guilfoile and Roberto Clemente and about Kevin Guilfoile and another famous Pirate, Barry Bonds. I think it explains what it means to be in the Hall of Fame.
This first story showed me what it meant to be Roberto Clemente:
As my father arrived for his first day on the job with the Pittsburgh Pirates, he had been intercepted by Dick Stockton in the parking lot of McKechnie Field, the Bucs' spring training home in Bradenton, Fla. Stockton is a first-tier play-by-play announcer now, but in 1970 he was a Pittsburgh television sports anchor, and he asked whether Dad was the team's new public relations director. When my father said he was, Stockton said he would like an interview with Roberto Clemente. My father explained that he'd been on the job only a few minutes and that he hadn't even met Clemente yet. Nevertheless, he would see what he could do.

My dad has Alzheimer's, so I can't ask him what happened next, but when his memories were still present, he took out a yellow legal pad and wrote down many of his baseball stories. In these pages, he describes his first encounter with Roberto. Dad introduced himself as the new PR guy, and in the next breath asked whether Clemente would do an interview with the sports director from KDKA-TV.

Roberto reacted with a three or four minute outburst, combining English and Spanish, to let me know exactly how he felt about Stockton. Apparently he and Dick had had a falling-out some time ago over something Stockton had said on the air.

Then Roberto paused, regained his composure, and looked at me with a little smile. "Would it help you if I did the interview?" he asked.

"Well, it's my first day on the job and I'm trying to get off on the right foot," I said. "Yes, it would help me if you would talk to him."

Clemente nodded and said, "Ok. For you I will do it, my friend." He finished dressing, walked out on the field, and gave an interview to Dick Stockton for the first time in years. — Bill Guilfoile
Roberto Clemente had 3000 hits, on the nose. He died December 31, 1972 on his way to help people he'd never met. He never came to the plate again, but he used baseball as a platform to help anyone who needed it, even unto death.
Guilfoile's story about Barry Bonds, however, showed me something different:
I was a 20-year-old American studies major making $500 a month as an intern in the Pirates' media relations department. Barry Bonds was a 24-year-old leadoff hitter, a player with huge potential, but he wasn't yet the superstar he would be a few years later. In the season I spent with him, Barry had a respectable 19 home runs and an impressive 32 stolen bases, but he batted just .248. No one was calling him a future Hall of Famer yet.

On a typical day at Three Rivers Stadium, I did research and helped with media inquiries and wrote articles for various in-house publications. During games I worked in the press box, basically as a gofer. And every morning I would get a list of names from the community relations department — sick kids in hospitals, mostly, or other charity and management requests — and I would walk down to the clubhouse with a folder of glossy photos to get autographs.

Most of the ballplayers treated me with kindness, or at least respect. A few probably even hoped their name would be on one of my Post-its — the fact that some kid had asked for their autograph being a good sign for their careers. Others thought of me as a minor nuisance that could be disposed of with a few seconds of effortless Sharpie wielding.

And then there was Barry Bonds.

Barry wasn't the kind of jerk who was nice to people only when he needed something from them. As far as I could tell, Barry was pretty much an ass to everybody all the time. Instead of berating me directly or just ignoring me, Barry would sometimes talk about me like I wasn't there. Sometimes he would tell Bobby Bonilla, who had the locker next to him, that I was lying to them and these autographs weren't for fans and that I was just selling these pictures to professional dealers, that I was another no-talent white man exploiting black men who possessed real ability.
There are many statistics that say Barry Bonds should be in the Hall of Fame, all the home runs and the seven MVP awards. There's also the conviction in 2011 on obstruction of justice charges in a case dealing with his use of performance enhancing drugs. We haven't seen Barry hit a baseball lately, either, but unfortunately hitting a baseball is all he's got.
Some things matter more than any statistic, and it's those things, those non-baseball things, that reveal why Barry Bonds should never have a place alongside Roberto Clemente.
Because one of these men is a hall of famer. The other one isn't.